Women Writers, Women's Books is an online literary magazine by and about contemporary women writers from around the world. Barbara Bos, Managing Editor, launched the magazine in 2011 as a platform for contemporary women writers and authors around the world writing in English. I was thrilled when she accepted this blog post and published it here.
What keeps readers reading is a topic I've been fascinated with ever since Eduardo Santiago called my first novel "The Lockhart Women" unputdownable. I liked this description so much that I even put it on the cover. I spoke to the Palm Springs Writer's Guild for two hours about this topic two years ago.
And I still have more to say.
I take it as a compliment when a reader tells me they finished my book over the weekend. "I couldn't put it down," is music to my ears, although sometimes this gives me a moment's pause. I spent seven years of my life on "The Lockhart Women." A weekend is only 48 hours.
I thought about this after binging the series "The Bear." In episode four of Season Two, pastry chef Marcus is off to Copenhagen to learn from a master chef how to craft wildly finicky pastry creations. One of these creations takes days to create. When it's finally plated, Marcus pops it in his mouth, grins widely, and it's gone.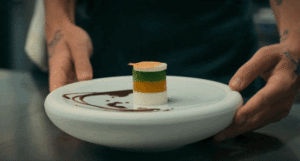 Turns out the desert tastes just like a Snickers bar.
So much work goes into creating a restaurant. The menu, the location, the chefs, the wait staff, the inspections, the plates and pans and tablecloths and forks. A novel is a similar endeavor. Characters, what they look like, what they want, how they mess things up. The sense of place, the sights, sounds and smells of the imaginary world that makes it feel real. The beginning, middle and end. Then there's publishing the damn thing, picking a cover, promoting it. And then someone picks up a copy and devours it immediately.
Which is a good thing, that I'm very grateful for.
These are some strategies to keep a reader's eyes on the page.