Midwesterners have a reputation for being "nice" and there does seem to be a certain Midwestern sensibility. I'm working with a public relations firm based in Minneapolis and they are genuinely nice human beings. Another example is my favorite singer/songwriter, John Prine.
I've recently read three very different books about Midwesterners and can testify that although all of the characters aren't necessarily "nice," they have similar traits.  They're direct yet polite with an aversion to pretense and bullshit.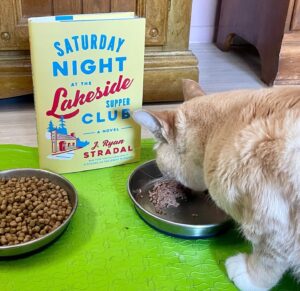 Although my first recommended author now lives in California, J. Ryan Stradal is from Minnesota. If he was a songwriter instead of a novelist, I think he'd sound like Prine. Like Prine's music, Stradal's voice is full of humor and kindness. As Prine did frequently (example "Angel From Montgomery") Stradal writes convincingly from a woman's point of view.
Another Midwesterner, Bob Dylan, called John Prine's lyrics as "Proustian existentialism, midwestern to the nth degree." I'm certainly no expert on Proust, but Webster's dictionary explains that "Proustian" prose is marked by a complex, highly detailed style, evoking a forgotten memory. Webster even gives specific examples of some types of forgotten memories–church socials, baby showers, the smell of hickory smoke.
And if you're also a Midwesterner, like Prine, Dylan, and Stradal, you might remember supper clubs.
What is a supper club? Riley, pictured here, has his own ideas about that, but in J. Ryan's latest novel "Saturday Night at the Lake Lakeside Supper Club," he describes "a proper supper club meal as beginning with a free relish tray and basket of bread, followed by a round of brandy old-fashioneds, and then a lavish amount of hearty cuisine, with fish on Friday, prime rib on Saturday, and grasshoppers for dessert."
The novel is set in Bear Jaw, Minnesota and tracks three generations of the Miller/Muller/Prager/Stenerud families from 1934 to the present. Stradal examines love, life, and loss and is not afraid to explore darkness. His characters experience tragedy and hardship. They work hard, fall in love, make terrible decisions, feel burdened by family obligations and expectations, and still manage to find hope, friendship, community, and family.
It's a terrific read. I recommend you cue up some John Prine on the turntable, mix up a couple of brandy old fashioneds, and enjoy, although personally I'd go with rye instead of brandy.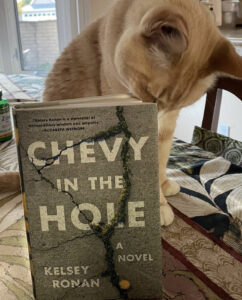 Another wonderful Midwestern book is Kelsey Ronan's "Chevy in the Hole," a love story told within another love story to the city of Flint Michigan, a once robust community brought to its knees by crooked politics, the collapsing auto industry, racial and economic inequalities and deadly, polluted tap water. When the novel begins, August Molloy has just overdosed in Detroit (again) and decides to go home to crash at his sister's house in Flint (again.) He's not really trying to get clean when he meets Monae Livingston, an urban farmer/jazz lover/archivist/ environmental activist. When he starts working at the farm, his life turns around.
Told in alternating timelines, Ronan weaves in the backstories of the Molloy and Livingston families from the 1937 sit-in strike at the Chevy factory, to present day times. There is so much to admire in Ronan's prose and I loved her two main protagonists. I also enjoyed the secondary characters in each family, especially the women.
Ronan's women remind me of the protagonists of the Jane Benjamin trilogy by Shelley Blanton Stroud. (If you haven't read the series, you need to.) Like Depression-Era-Oklahoma-transplant-turned-San-Francisco-gossip columnist Jane Benjamin, the women in "Chevy in the Hole" have grit. Beatrice, who "might've not made a bad revolutionary." Rose experiencing her "postmenopausal renaissance." Goldie with her "ringless fingers, coral polish shining." August's sister Annie, who he always calls when he overdoses because "she never cries in public."
These women rise above economic ruin, brutality, cheating men, heartbreak, family secrets, social mores of the time that haven't changed much at all, not to mention tap water that will kill their children. These women are tough. They reinvent themselves by digging deep into what they want. They're not always likeable but they are always interesting, which to me, is more important.
Equally important is the sense of time and place threaded through the novel. We witness the Detroit uprising of 1967, tune into the Detroit music scene of Motown jazz and rock, feed carrots to the deer that have moved into Chevy in the Hole. Keith Moon has an unforgettable twenty-first birthday at the Holiday Inn. Question Mark and the Mysterians make an appearance. Aretha Franklin sponsors hotels at the same Holiday Inn to families protecting their children from toxic tap water.
There's a deep empathy laced through Ronan's words. I couldn't put the book down and once I reached the deeply satisfying end, I immediately started reading it again.
I can smell the bacon frying in my third recommendation, Gretchen Cherington's new book "The Butcher, the Embezzler, and the Fall Guy" It's about an embezzlement that nearly brought Hormel Foods to its knees in 1921. I got to read an advance copy. You can preorder now. Pub ate is June 6, 2023.
Cherington brings a unique perspective to this story. Her grandfather played a pivotal role in the early success of the Hormel meat company and was ultimately forced out of the company. The family narrative is that he was unfairly terminated and had nothing to do with the embezzlement. The book is the story of Gretchen Cherington's journey to uncover the truth.
Cherington's consulting career allows her keen insight into the world of CEOs and executives. To understand the event that forever changed her family's fortunes, Gretchen returns to her midwestern roots to uncover the truth about the meatpacking industry and the powerful men who shaped it.
I love stories about businesses but the best business stories aren't about the business at all, they're human dramas about family and flawed people. Although I thoroughly enjoyed loved learning about the meat packing industry (and SPAM!) Cherington's novel is more about family legacies and secrets, the sometimes misguided trust between friends, and the deep determination/ruthlessness needed to succeed in the corporate world. A compelling, thought-provoking read, impossible to put down.