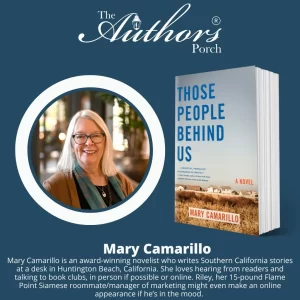 The Author's Porch project highlights authors and their works. The project includes a magazine, a podcast and blog interviews. Founder and host C J Ives Lopez was inspired to create this project by her grandmother's porch which was "always full of people, and the light was always on." When she was stationed in Kuwait, there was a porch everyone used to make phone calls home. C J went there everyday to call her husband and kids and realized that, on the porch, she felt comfort. "Everyone there was connecting with someone that they needed in their life."
I really admire CJ's approach to author marketing. She believes that an author's career "isn't just about self-promotion; it's about connection." I was thrilled to be included in the blog on "The Author's Post." Her interview questions covered my past, my influences, my favorite books, and my future plans. But my favorite question was the one about my new novel "Those People Behind Us" because it forced me to think more where this story came from.
When I finished my first novel, "The Lockhart Women" I never anticipated the questions I'd be asked. I was naive. I thought I could just tell people, "read the book." It turns out readers want to know more. So I'm grateful to the Author's Porch team for encouraging me to think about the inevitable questions in advance.
Here's what I said about my new book, releasing 10/10/2023 and available for preorder now, wherever you like to buy books.
Author's Porch: What inspired you to write this book?
My answer: "Those People Behind Us" was inspired by my neighborhood. During the pandemic, my husband and I spent a lot of time walking the streets and making up stories about the lives of our neighbors. We heard someone pounding on a drum set and decided it must be a kid who wanted to be a rock and roller. One of our neighbors always left all of their doors wide open, day and night, and we worried something bad could easily happen to them. We were curious about the flags our neighbors flew, what they thought about, and how they spent their days.
We also saw a lot of suburban wildlife on our walks–coyotes, possums, skunks, racoons, herons, hummingbirds–and started paying more attention to the types of trees and plant life. Most of this ended up in "Those People Behind Us" but I fictionalized actual names to make the story more universal.
Read the entire interview here.