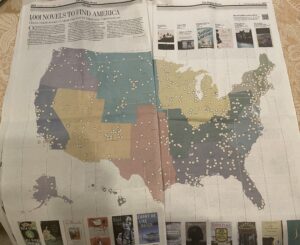 The Los Angeles Times published author/teacher/book fence curator Susan Straight's "1001 Novels To Find America" project on May 29, 2023 and it is incredible. Each dot on the map above represents a book about the location.
Susan said, "For five years I've been reading classic novels of American life, and stories deeply embedded in the many regional places of the United States, with the intent of placing them—literally—on a map."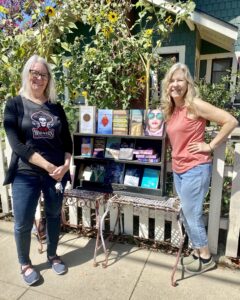 I visited Susan and her book fence two years ago outside her beautiful home in Riverside, California. We sat on her front porch and talked books for a long time with her neighbor, Kate Anger, who is also featured on the list with her book "The Shinnery" set in Texas.
I  got to peak inside Susan's living room too, where there looked to be over 1001 books stacked on the floor.
"This is my love letter to the United States," Susan told the LA Times, "to our powers of narrative and laughter, to the way we need to treasure every region of this extraordinary country, with geography that shapes all our lives, to honor the rivers and mountains, subways and freeways, deserts and forests, bayous and canyons of the nation."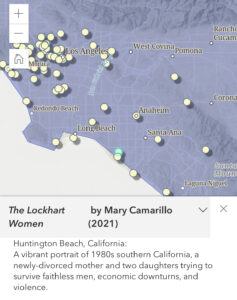 I'm so thrilled to click on Huntington Beach and find not only Kem Nunn's "Tapping the Source" but also "The Lockhart Women" by me.
There are so many good books on this list.
Click here to explore the entire map