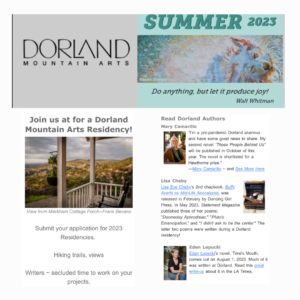 I've been lucky to spend some time up at Dorland Mountain Arts Colony, writing, editing, reading and recharging. I'm overdue for another residency but in the meantime I got a nice shoutout in their Summer Newsletter about my forthcoming novel, publishing on 10/10/2023.
I started this novel up at Dorland Mountain back in September 2019. In those days I was trying to write a mystery about a murder and a missing person but none of my characters wanted to go missing (although one of them did end up wanting to murder someone.)
Characters can be like that — not always agreeable to the author's original intention. Dorland Mountain does end up making an appearance in the novel but you're not getting any spoilers from me. Preorder now wherever you like to buy books.
In the meantime you can read the interview here.