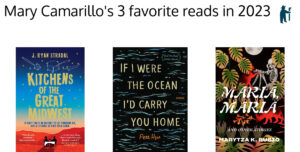 Ben Shepherd recently asked authors and super readers for their 3 favorite reads in 2023 and I got to be one of them. Read about my three choices here.
Read all of the selections here. If you're not familiar with the Ben Fox or his Shepherd project, check it out. Ben believes that books build better humans, and he's on a mission to help everyone find the book they didn't know they were looking for.
More than 9000 authors have developed lists of their favorite books around topics, themes, and moods. It's kind of like browsing a bookstore in your pajamas.