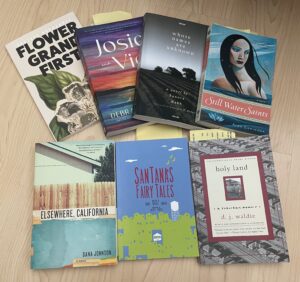 The New York Times recently listed ten books that help "explain California." Although Susan Straight's excellent novel Mecca was included (and also included in Part One of my own list included in another article on my website recently) it was the only selection about Southern California and one of only two not written by a white man. Three of the books on the NY Times list were published before 1939.
I went to my book shelves and found seven more recent and diverse suggestions from a few more of my favorite authors—Alex Espinoza, Sarah Rafael Garcia, Gustavo Hernandez, Dana Johnson, Debra Thomas, D. J. Waldie, and Sanora Babb.
As in my previous list, these authors all have a keen eye for detail, a strong sense of place, and an understanding of the importance of humor, heart, and hope. Their stories concern the ordinary and the extraordinary. They write about ghosts, gentrification, immigration, assimilation, and grief and (with one exception) they all use the Southern Californian landscape as a protagonist.
Read the rest of the essay here on Bill Wolfe's blog, Read Her Like An Open Book. And if you don't subscribe to his site, you really should. Bill Wolfe is a champion of women writers and a generous soul.