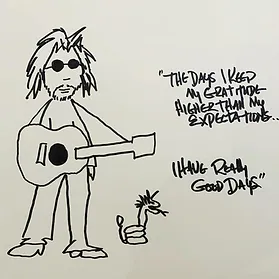 Like Ray Wylie Hubbard advises in the epigraph to my forthcoming novel "The Lockhart Women", the days that I keep my gratitude higher than my expectations, well, I have really good days.* These lyrics are from a song Mr. Hubbard recorded in 2012 called "Mother Blues." His advice felt appropriate for the mother in my novel whose expectations consistently exceed her gratitude.
Ray Wylie Hubbard is a Texas poet, troubadour, raconteur and a truly independent artist who owns his own label and publishing company. His DIY aesthetic resonates with me. He's been described as one part Guy Clark and one part John Lee Hooker. He's 73 now and having quite the renaissance. His latest album (number 19!) is titled "Co-Starring" and features Elizabeth Cook, Aaron Lee Tasjan, Paula Nelson, Pam Tillis as well as the likes of Ringo Starr, Don Was, Joe Walsh, and Chris Robinson of The Black Crowes. The kind of company Mr. Hubbard probably never expected to keep.
Following Ray Wylie's advice, I had low expectations the day I met photographer Brooklyn Hargrove a few Saturdays ago in Fairview Park in Costa Mesa, for an headshot photoshoot for my novel. I have reasons for low expectations–I'm sixty-eight years old, my skin has never been great, I can barely put on lipstick straight and I have no idea which is my best side, much less how to pose. Plus, I hadn't been sleeping much for all kinds of pandemic and non-pandemic reasons.
And I'd already tried this headshot business once. I found a local photographer on Facebook back in January. He mostly did corporate headshots, but he lived close by and his portfolio looked good. My first clue should have been our phone conversation. "Let's get together around noon on Friday," he said, "and we can bang this out."
Banging something out sounds more like construction work than photography. Still, I drove to his house at the appropriate time. His studio was set up in his garage. He had me stand in front of a white screen and turned on what seemed like flood lights. Then he told me that his camera had an extremely high-powered lens that would capture every single detail.
"Relax," he said.
"Oh my God," I thought.
I could tell he wasn't impressed with my smile or my poses. I wasn't impressed either, when he stopped and had me look at the photos he'd taken so far. I looked rigid, terrified, wrinkled, awful. He said, "Let's try some more shots," but now I had the vision of what I looked like fixed firmly in my head. I was glad when he stopped.
He sent me over a hundred photographs. I found one that I could tolerate after he did a major touch up job and put an orange background behind me that kind of offset my purple sweater but not really. My publisher needed something. I thought I looked like I had a stick up my ass, but I sent them the photograph.
And then I read somewhere that older people look better in late afternoon sun. I tried taking a selfie up at Dorland Mountain Arts Colony just before sunset and was really happy with the result. My project manager liked it too, but she thought it was too informal. "Try again," she suggested. "You still have some time."
So, I searched photographers again on Facebook and serendipitously found Brooklyn Hargrove. She takes a lot of family portraits of adorable toddlers and gorgeous young parents, but I noticed they were all outside in natural light. She had a shoot scheduled for late one September Saturday afternoon and I signed up.
My husband went with me. He surprised me with new earrings as I was getting dressed. We found Brooklyn and her mother out on the bluff overlooking the ocean. They both said I looked pretty. They suggested ways I could stand. They gave me confidence to toss my hair around and look up into the distance.
I still don't know what my good side is, but I really like the photos Brooklyn created. She touched this one up a bit. I'll admit to being vain.
Just like Ray Wylie Hubbard promised, it was a really good day.
Thanks so much Brooklyn! My gratitude is high.
You can find Brooklyn Hargrove Photography if you click here.
*Words and Music by Ray Wylie Hubbard. Copyright © 2012 BMG Cicada and Snake Farm Publishing. All Rights Administered by BMG Rights Management (US) LLC.