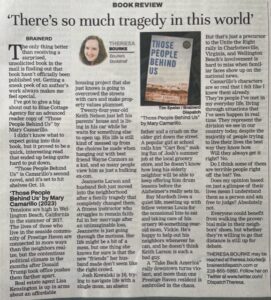 Gracias to Theresa Bourke of the Brainerd Dispatch for this thoughtful review of Those People Behind Us. Bourke said this:
"Camarillo's characters are so real that I felt like I knew them already. They're people I've met in my everyday life, living through situations that I've seen happen in real time. They represent the division we see in our country today, despite the majority of people trying to live their lives the best way they know how.
Will they always get it right? No.
Do I think some of them are terrible people right off the bat? Yes.
Does my opinion based on just a glimpse of their lives mean I understand them as a person and am free to judge? Absolutely not.
Everyone could benefit from walking the proverbial mile in their neighbors' shoes, but whether they're willing to go that distance is still up for debate."
Thanks Blue Cottage Agency for pitching my book to the Brainerd Dispatch.